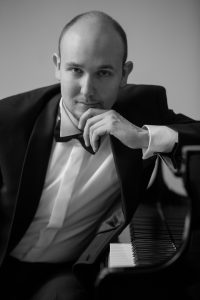 Pianist Maxim Shamo belongs to the young generation of the Lied accompanists and follows the tradition of the Art of Lied by Hermann Prey, Irmgard Seefried, Udo Reinemann and Helmut Deutsch.
Shamo went on his first tournée at the age of 12, performing in Ukraine and Sweden. Since then, he has appeared on stages throughout Europe, performing both solo recitals and as a soloist with various orchestras.
Maxim Shamo was born in the North Caucasus, in a family with a longstanding professional musical tradition. Mr. Shamo started studying piano at a very early age, at the Special Music College of the National Academy of Music in Kiev, Ukraine. This first step of education already linked the young student with the professional performing world.
Following his musical path, Maxim Shamo studied around the world, with Prof. Ludger Maxsein at the Folkwang University of the Arts (Essen, Germany), Prof. Staffan Scheja (Stockholm), and Prof. Willem Brons (Amsterdam). Further important musical impulses were received from Natalia Gutman, Irwin Gage, Robert Levin, Malcolm Martineau, Olaf Bär, Udo Reinemann and Jeffrey Cohen. During his studies, Shamo discovered his love for the Art Song.
A turning event for Shamo was encounter with maestro Helmut Deutsch at the Mozarteum Summer Academy. Since then Maxim Shamo follows the artistic guidance on the Lied Repertoire by Helmut Deutsch, who became his Mentor.
Maxim Shamo won the 1st Prize at the 2006 Köhler-Osbahr Piano competition, and, during his years as a student at the Folkwang University of the Arts, earned academic scholarships from Germany's Yehudi-Menuhin-Foundation and the Netherlands-Germany Rotary Club.
Mr. Shamo completed the Piano Master Studies and the Piano Postgraduate Course summa cum laude, and was invited to join the teaching staff of the Folkwang University of the Arts as a docent of Piano and Lied Accompaniment.
Maxim Shamo performs throughout Germany, Italy, the Netherlands, UK, Russia, Spain, Sweden, and Ukraine.